Student Clubs & Committees
Home
>
Student Clubs & Committees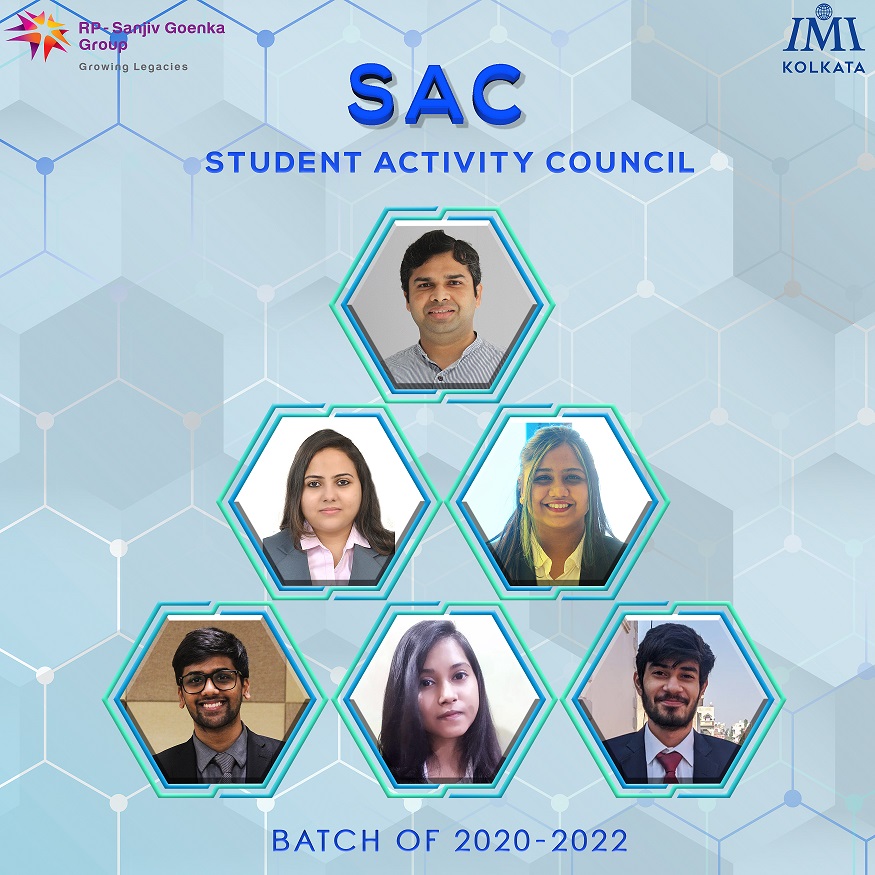 SAC
The Student Activity Council (SAC), the apex student body at IMI Kolkata, acts as the point of contact between the Management and the Students. It permeates various aspects of the students' lives on campus by ensuring smooth interactions between the administration, faculty, students and external agencies. It assists in the formation of the student-run Clubs/Committees on campus, and ensures smooth operation throughout the year. The council also assists in organising events and activities for student development and engagement. Thus, the SAC tries to assist student development through smooth coordination of activities, and to ensure that proper balance of interests among all the stakeholders is maintained.
Mentor:  Dr.Avinash Shrivastava
Members: Akshaya Daga ,Kaushiki Sengupta , Shreyans Sethia ,Jagrit Sharma , Nikita Sharma
PLACECOMM
The Placement and Corporate Relations Committee (PlaceComm) of IMI Kolkata acts as a liaison between the corporate world and the student fraternity by working towards a common goal of obtaining the desired placement offers for the students. It manages the whole placement process, from interacting with the HR representatives of organisations, to arranging necessary infrastructure to conduct a seamless placement drive. Apart from this, the committee also organises mock Group Discussion and Personal Interview sessions for the students. The committee plays a vital role in developing and maintaining a long term mutually beneficial relationship with the industry by organising various engagement initiatives like Guest lectures, Live Projects, Summits, Corporate competitions.
Mentor: Dr. Rohit Singh
Members: Abhishek Bhattacharjee,Arijit Dutta,Avishek Bandopadhyay,Priya More,Punita Naryani,Roshni Mondal,Soumadip Sen
ALCOMM
The Alumni Committee of IMI Kolkata serves as a significant bridge between the institute and its alumni. With the aim of building bonds and fostering interactions among our alumni as well as with the institute, the Alumni Committee understands the importance of the impact the alumni can have on the growth of their alma mater. The committee works incessantly to bring its entire corporate family together through networking. It also organizes interactive sessions with the alumni that facilitate growth of the students as well as strengthen the relationship of the institute with them.
Mentor: Dr. Sachin Modgil
Members: Harsh Goyal,Mayank Bajaj,Nishant Singh,Rajnandini Rathore,Sneh Dassani
CUL~COM
Cul~Com, The Cultural Committee of IMI Kolkata strives to celebrate the cultural diversity on campus by organizing various events and festivals. The Committee ensures that every festival is celebrated with unbridled enthusiasm and joy so that the students have a home-away-from-home experience at IMI Kolkata, while providing various opportunities for them to relax and enjoy the campus life amidst rigorous academics. The Committee seeks to create a platform that provides the students with an opportunity to not only stay connected with their culture but also bring to light a treasure trove of creative talents, showcased in a variety of ways. The Committee intends to create an atmosphere, which is intellectually and aesthetically stimulating for the community on the campus.
Mentors: Ms.Abhisikta Chakraborty; Dr. Tinu Jain.
Members: Anushree Mukherjee, Neelam Drolia, Niladri Roy, Sarmistha Dasgupta, Sayandip Bera, Shivani Mundhra, Sweta Ray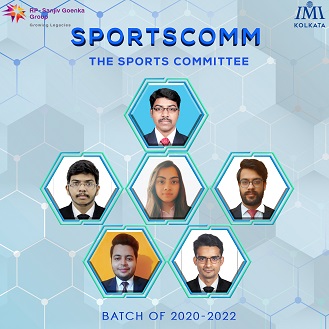 SPORTSCOMM
The Sports Committee (SportsComm) of International Management Institute Kolkata provides an ideal platform for all the students to play, practice and participate in various sport activities. The committee aims to foster a sense of team spirit among the students and also ensures holistic development of each and every individual. It also manages the upkeep of all sports infrastructure and is responsible for keeping the students thoroughly involved in team-building activities across a diverse set of sports events throughout the academic year.
Mentor: Dr.Jeevanathan M.
Members: Danish Zameer, Lokesh Dhamija, Nitesh Dey, Parupudi Himaja, Saumadeep Guharay
STUDENT ADMISSION COMMITTEE
The Students Admission Committee (AdComm) acts as a bridge between MBA aspirants and the Institute. The committee acts as the first Point-of-Contact for all prospective students. Its primary objective is to facilitate the admission process and promote IMI Kolkata. Hence, it aims to provide the students a seamless and hassle-free experience in easing into the programmes offered by the Institute by providing guidance and necessary support to the aspirants whenever required on their road to IMI Kolkata.
Mentor: Dr. Swapnarag Swain
Members: Aditi Ashwani Shukla, Akansha Khaitan, Prantik Majumdar, Sandipan Roychowdhury, Shouvik Dutta
RAC
The Residential Affairs Committee (RAC) of IMI Kolkata is a residential student run committee, that is responsible for addressing the grievances of the residents and for resolving any conflicts that take place within the campus. RAC celebrates all the festivals in the hostel premises to make the place a second home for all the residential students. It acts as a medium of communication between students and the management for all hostel related issues. RAC connects the three vertices of the IMI hostel triangle, namely safety and security, comfort and development through discipline, innovation and efficient management.
Mentor: Dr. Avinash K Shrivastava
Members: Abhinay Oberoi,Anushka Awasthi,Kirti Bajoria,Lakshay Singla,Shayan Ganguly,Suryash Kesarwani
MUDRA
Mudra, the Economics Club of IMI Kolkata aims to provide an opportunity to let people explore the world of economics beyond the classroom discussions. It helps students to look at things from different perspectives along with providing them with information & literature concerning the field of economics. The club provides a platform for various fun activities and discussions about the prevalent issues in policy making by governing institutions through various interactive channels.
Mentor: Dr.Sahana Roy Chowdhury
Members: Aamir Sohail,Anuska Paul,Pratiksha Bothra,Raj Kumar Dutta,Rishav Bhattacharjee
BIZZAFFAIRS
BizzAfrs, the Business Club of IMI Kolkata, works consistently towards its primary objective of enhancing the understanding of business related concepts among the students. The clubs believes that one has to relate the classroom understanding with that of the real world business on-goings to know why we learn, what we learn and how the industry goes about implementing the same. The purpose of the club is to bridge the gap between the text book and the real world.
Mentor: Dr. Sahana Roy Chowdhury
Members:M K N V Chandra Shekar,Ritika Sharma,Ritoriddha Dasgupta,Shivam Jhunjhunwala,Zeeshan Alam
ALTRUIST
Altruist, the Social Responsibility Club of IMI Kolkata is constantly striving towards making the earth a better place to live in. From fighting against glaring issues our society faces today such as poverty, hunger, diseases, gender discrimination etc., to spreading awareness about the same via social media, events and drives, the club is committed towards helping those in need, keeping aside color, caste, gender or nationality and prioritising humanity.
Mentor: Dr. Rituparna Basu
Members:Anjali Kajaria,Ankit Gupta,Barkha Roy,Rahul Raj,Sourojyoti Ghosh
I CONSTRUCT
iConstruct, the Strategy & Consulting Club of IMI Kolkata, holds a strong legacy of equipping students with the tools and resources through a series of exposures from live projects, case studies to various domain specific corporate strategy games. In due course, the club provides a platform for team building exercises, thus bridging the gap between theoretical knowledge and practical implementation.
Mentor: Dr.Tirthankar Nag
Members:Ajay Gulati,Kaushiki Sengupta,Shamik Sengupta,Sheersh Deep,Shubham Makkar
ATOM
Atom, the Operations Club of IMI Kolkata has a strong foothold in practicing the culture of developing a wholesome learning experience through working as a team. The club makes it a point to bring forth innovative ideas, recent breaking business news, and important management concepts through interesting and interactive social media content and live events. The club aims to make the best use of their knowledge and skills for the benefit of the student fraternity of the institute in the domain of business and management.
Mentor: Dr. Sachin Modgil
Members:Aiman Sultan,Aindrila Das,Mousumi Guha,Sayan Barman,Tushnik Ghosh
SMART
S.M.A.R.T. (Social Media Action Response Team), the Branding and Media Cell of IMI Kolkata bears the mantle of an integral duty of handling the brand equity of the institute. Working in collaboration with other clubs and committees of the college for the coverage and documentation of all important events, corporate guest lectures, alumni interactions, internship experiences, etc., the team is the institute's in-house content generation powerhouse. The team publishes the promotional content on various social media platforms of IMI Kolkata. Parallely, the committee is also responsible for public relations of various events, for both internal and external publications. Also, the team is responsible for digital marketing initiatives in the form of generating interactive social media campaigns and content curation for the same, thus bridging the gap between industry and academia. The sole objective of the committee is to promote and maintain the dignity of the brand of IMI Kolkata.
Mentor: Dr. Gobinda Roy
Members: Manu Vardhan,Mayank Bajaj,Sabujsree Siraj,Somnath Panda,Sourav Choudhury,Soumyorup Banerjee,Swastika Biswas
FINASTRA
Finastra, the Finance club of IMI Kolkata works towards boosting the interest of students on campus in finance and also helps indulge that interest through competitions, workshops, webinars and professional opportunities. The club also helps in enhancing the presentation skills of students and familiarising them with financial aspects and interpretation. Instrumental in ensuring preparedness for placements, the club also endeavours to serve as a bridge between the industry and the student community. The goal of Finastra is to promote a professional association within the realm of finance.
Mentor: Mr. Surendra Poddar
Members: Bishal Jaiswal,Jagrit Sharma,Sohom Mitra,Shreyans Sethia,Shubham Soni
HUMAN HOUR
Human Hour, The Human Resource (HR) club of IMI Kolkata, is aimed to nourish creative and curious minds as HR managers and entrepreneurs. The club induces insightful industry experiences through guest lectures, webinars, competitions and visits. In this era of globalisation which brings competition hand in hand, its objective is to try and bridge the gap between expectations and reality of potential recruiters through interactive modes of learning.
Mentor: Dr. Soni Agrawal
Members: Anannaya Chatterjee,Hillol Ghosh,Richa Gupta,Sharanam Dubey,Vanshika Singal
MARKREATORS
In the words of Greggory Ciotti, "Marketing is Enthusiasm transferred to the Customers".
As the Marketing Club of IMI – Kolkata, MarKreators live by this motto. The club strongly believes in learning by doing and therefore strives to enhance learning, by creating the perfect blend of marketing concepts and its fun-filled applications. The team constantly tries to take classroom learning up a notch by implementing the concepts to real-life scenarios. MarKreators endeavors to inculcate the passion for Marketing amongst the students by making Marketing fun!
Mentor: Dr. Rituparna Basu
Members: Aastha Gupta, Bhavna Saini, Harsh Agarwal, Lakshya Pandey, Nikita Sharma
WALLRUSH
Wallrush, the Content and Creativity Club of IMI Kolkata, heartily welcomes students to the phenomenal world of literary diaspora where they help them escape from the daily rigor. The club believes that a sound absorbance of literature followed by its implementation in business perspective will not only prosper the functioning of the "right-brain" but most importantly will catalyze the "unlearning" which possesses the potential for the creative metamorphosis to take place.
Mentor: Dr.Dibyajyoti Guha
Members: Akshaya Daga, Ankita Das, Mohit Kumar Mahato, Prateek Das, Priyanka Bhol
E-CELL
E-Cell, the Entrepreneurship Club of IMI Kolkata works towards boosting an entrepreneurial culture within the institute. The sole motto is to help the students connect the dots of classroom learning with the business world scenario by indulging them in competitions and activities that require innovation, critical thinking and problem solving. The club also hosts guest lectures and talk shows by several successful entrepreneurs with a motive of helping students get a flavour of different perspectives and proper guidance from the experts, who have already made it big!
While the general focus is on getting employed, the club aims to create a cultural shift where students get motivated to create employment.
Mentor: Dr.Rajarshi Chatterjee
Members: Abhishek Sahu, Jannat Shami, Krishanu Talukdar,Shivam Goel, Sumati Mahato
IIC
Institution's Innovation Council (IIC) of IMI Kolkata has progressed under the initiative of the Ministry of Education's Innovation Cell (MIC) to foster, envision, and encourage creativity along with innovation among the Higher Education Institutions. The council is dedicated towards ceaseless attempts for inspiring, encouraging and cultivating new ideas and organizing productive and successful events towards supporting its prime agenda which revolves around nurturing and creating an innovative eco-system within the campus.
Mentors: Dr.Rajashri Chatterjee ,Dr.Rohit Singh & Professor Tirthankar Nag
Members: Aastha Gupta, Abhinay Oberoi, Abhishek Bhattacharjee, Anushka Awasthi, Devyani Agarwal, Harsh Agarwal, MKNV Chandra Shekar, Parupudi Himaja, Ritoriddha Dasgupta, Sarmistha Dasgupta, Sahil Roy, Shreyans Sethia, Soumadip Sen, Tathagata Gupta
INTEGRITY
Integrity Cell of International Management Institute, Kolkata instills students and every atom of the institute with the values like integrity, compassion, kindness and others which are important for human survival. We work as a team in organising events which gives the participants in depth knowledge about ethics and integrity in the corporate as well as in the world at large. We pledge to make best use of knowledge and prepare ethically right leaders.
Mentor:Dr.Chanchal Chatterjee
Members: Anannaya Chatterjee, Akshaya Daga, Kirti Bajoria, Lakshya Pandey, Nitesh Dey
D-INSIGHTS
D-Insights, the MIS and Analytics Club of IMI Kolkata, aims at bringing the world of analytics closer to the student body than it has ever been. Helping students bridge the gap between classroom learning and industry expectations in the field of MIS and analytics, the club enhances the analytical mindset of the students, besides spreading awareness about the recent analytical infrastructure and methodologies.
Mentors: Dr.Avinash Shrivatsava
Members: Abhisek Bhattacharjee , Kaushiki Sen Gupta ,Soumadip Sen
IMI Kolkata Toastmasters Club
Toastmasters International (TI) is a US-headquartered non-profit educational organization that operates clubs worldwide for the purpose of promoting communication, public speaking, and leadership, started in 1924 by Dr. Ralph C. Smedley.
IMI Kolkata Toastmasters Club is aimed at providing a supportive and positive learning experience in which members are empowered to develop communication and leadership skills, resulting in greater self-confidence and personal growth
The club conducts weekly meetings to ameliorate the public speaking skills of all the members and further hone their skills as communicators and leaders.
Mentor: Dr.Rohit Singh
Executive Committee Members: Arka Guha, Manu Krishnadasan, Divyaratn Singh, Md. Ajmal Mohideen, Jitduth Gupta, Neeti Bhalotia, Vishal Goel, Khushi Kedia, Tamanna Bhoot